#52Ancestors: Cemetery – Buried in a far off land.
Another story in the 52 ancestors in 52 weeks challenge.
Today, April 25th, is Memorial Day in New Zealand. On that occasion it is great to present another story
By Kendall Gibson, Wellington, New Zealand
In this part of the world the date we keep for reflecting on the suffering and loss in past wars is 25 April. Our Memorial Day is known as 'ANZAC Day' (Australia and New Zealand Army Corps).  This story is about a member of our family who was killed in the first World War of 1915.  He was my Great Uncle so strictly speaking I'm not a descendant. Uncle Fred has no direct descendants, he does not lie in a cemetery and he has no marked grave.
 Fritjof Larsen 1886-1915
 He was the youngest of the 11 children of Hannah and Nicolai Larsen who had emigrated from Norway to New Zealand in 1873. While his parents registered his name as 'Fritjof' he was always known in the family as 'Fred.' An event in 1888 had a devastating effect on him and his family. Fred's father and eldest brother Carl (Charlie) aged 20, were felling trees on a remote section of their farm (selling timber for railway sleepers would have been a very useful cash income). They had established a rudimentary camp at the site as it was too far away to come home every night.  They were caught by an unseasonal change in the weather and with very little shelter at their camp, Nicolai and Charlie both caught a chill that turned to pneumonia. They died within months of each other. Fred was two years old.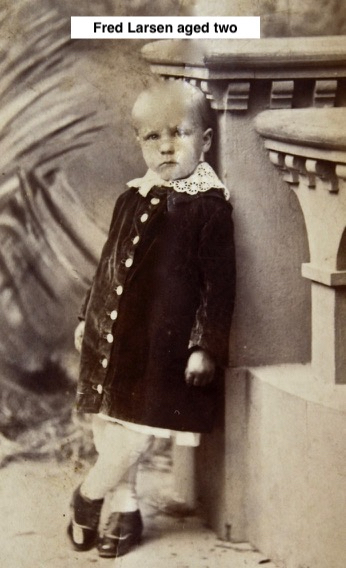 In 1902 when his older brother Gus then 25, announced his intent to volunteer for service in the war in South Africa (The Second Boer War) Fred wanted to join up too – he was 15.  The brothers thought their mother Hannah mightn't be too supportive of Fred's plan, so they told her Fred would be working up at the camp for a few days when in fact he was off to the recruiting office with Gus. Gus was accepted for enlistment but not Fred (he probably looked his age – just a kid). I wonder if Hannah ever knew?
With the advent of the First World War in Europe, Fred got another opportunity to join the military. On 15 December 1914 he enlisted in the 'Wellington Infantry Battalion.' But for some unknown reason he gave a false name 'Frederick Lawson.' The reason why is a complete mystery to us. He was 28, so it was not because he was under age. It could be that he had been using this name for a while? At this time, war with the German Kaiser was on the horizon and the majority of New Zealanders being of English, Irish and Scottish heritage, may have shown prejudice against anyone with a name like Fritjof Larsen (that would seem to them of German origin).
Fred sailed for Egypt in February 1915 on board the troop ship SS Maunganui. During the two month long voyage Fred was one of the many young soldiers who contracted measles. He was in the ship's hospital for 14 days but made a complete recovery (some soldiers died from measles on the troop ships).
In May 1915 Fred was posted to the Dardenelles (Turkey). For the next 8 months New Zealand troops along with those from Australia and other allied forces battled the Ottoman Imperial Army. Fred was killed in the battle of Chunuk Bair on 8 August 1915. That day Fred's battalion captured the summit of Chunuk Bair but at enormous cost – 91% of their men wounded or killed. And two days later the Ottoman forces recaptured the summit.
A description of the events of 8 August 1915–
 'The Wellington Battalion occupied the summit before dawn on 8 August. With sunrise came a barrage of fire from Ottoman Turks holding higher ground to the north. A desperate struggle to hold Chunuk Bair ensued. By the time the Wellingtons were relieved that evening, only 70 of the battalion's 760 men were still standing. Malone (the battalion commander) was one of the casualties, killed by an Allied shell about 5 p.m.'
Source  'Wellington Battalion captures Chunuk Bair',
URL: https://nzhistory.govt.nz/wellington-battalion-captures-chunuk-bair, (Ministry for Culture and Heritage), updated 8-Aug-2017
No one knows where Fred Larsen fell, his body was never identified.  It could be that like Lieutenant Colonel Malone, he was killed by 'friendly fire' i.e. being hit by your own side's artillery.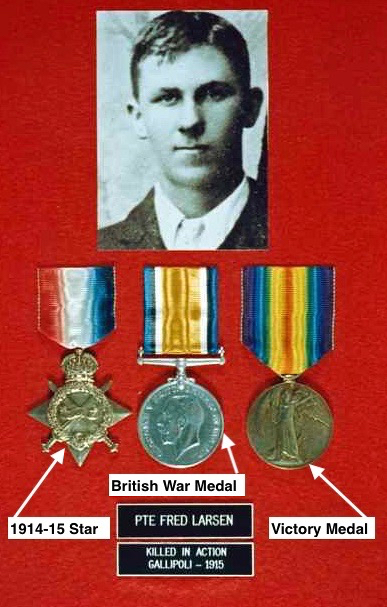 Every year on ANZAC Day there is a memorial service at Chunuk Bair on the Gallipoli Peninsuala in Turkey. It is rugged, barren terrain and far from any built up areas. To be there for the service, which is at dawn, means staying out all night on this remote hillside with no facilities. But thousands of New Zealanders and Australians make this trip every year. (It's become a 'rite of passage,' or a pilgrimage.) Some of Fred's family have made this trip over the years and thought of him.
ANZAC Day 2015 marked the centennial of the Gallipoli campaign and Fred Larsen's death. So many people wanted to be at the dawn service in Turkey that the NZ government had to limit numbers. They held a ballot to allocate places. Over 7000 people applied (even though you had to pay you own way). One of Fred's great nephews was lucky. He took the photo of Fred showing his campaign medals to the service. In the photo below you can see Fred's photo on the Chunuk Bair memorial. It is right next to the wreath laid by Prince Harry who was at the service representing his grandmother the Queen of England. I hope Fred would have approved.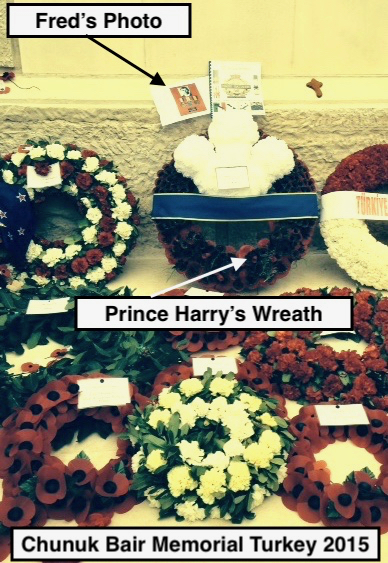 These words of Kemel Ataturk (the first leader of the republic of Turkey) are inscribed on a memorial at Gallipoli and also here on a memorial in Wellington. It's a particularly moving statement considering our troops were attempting to invade his country.
'Those heroes who shed their blood and lost their lives! You are now lying in the soil of a friendly country. Therefore rest in peace. There is no difference between the Johnnies and Mehmets to us where they lie side by side here in this country of ours. You, the mothers, who sent their sons from far away countries wipe away your tears; your sons are now lying in our bosom and are in peace. After having lost their lives on this land they have become our sons as well.' Atatürk, 1934
Source 'Ari Burnu Memorial, Gallipoli', URL: https://nzhistory.govt.nz/media/photo/ari-burnu-memorial, (Ministry for Culture and Heritage), updated 13-Jan-2016
Note: 'Johnnies' refers to Allied troops and 'Mehmets' to the Turkish troops.
Back home, to mark the centennial, a named white cross for every soldier from the Wellington Battallion who died in the Gallipoli campaign, was erected in the Botanic Gardens.