#52ancestors: A dinner invitation
Here is my contribution for this weeks 52 ancestors in 52 weeks challenge: A dinner invitation!
When I first looked at this challenge, I thought it was about which ancestor I would like to be invited to dinner by. I now realise that it is about which ancestor I would like to invite to dinner. In any way, my thoughts went to my Grandmother Ruth.
My Grandmother Ruth Henriette Nilsen (nee Rognan) was born Oktober 22. 1914 on the island Langøya outside the larger island Hitra on the coast of Sør-Trøndelag county. Her parents were Ole Edvard Rognan (1869-1922) and wife Eline Kristine Rognan (nee Vågen) (1872-1961).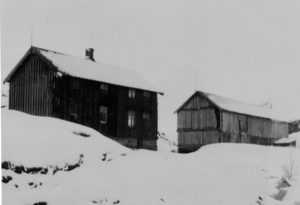 Ole Edvard bought one of the two properties on Langøya in 1908 and moved there with his family, There was not a lot of farmland on the property, but they were still able to keep some animals. Their main income though, came from the rich fisheries from the great "larder" that surrounded their island.
In addition to selling fish, it also meant that fish was staple food on their dinner table. The women in the coastal households were masters in preparing this delicacy that was so abundant right outside their door. Starvation was never a problem, but the home on the small island was, not down right poor, but a very modest household.
Ole Edvard died from cancer in 1922. This was a devastating blow to the family on Langøya. The oldest son Johannes and daughter Margrethe had already married and moved out. Many of the other children were old enough to take care of them self. The youngest though, among them my Grandmother, were in a dire situation. It was talk about sending them to foster homes. The son, Ingvar, 17 years old in 1922, decided that it was just not going to happen. He put any plans he might have on hold and pledged to take care of the family.
Uncle Ingvar's family and my grandparents was for a period neighbours in Molde (Møre og Romsdal county). When visiting my grandparents I often met and talked with Uncle Ingvar. He was the finest gentleman you could think of. Soft-spoken and modest with a great sense of humour. At that time I did not know about the dire situation my grandmother was in when her father died, and the sacrifice Uncle Ingvar made to keep the family together. I now understand the reason for my grandmother Ruth and her brother Ingvar's close relationship. My grandmother told a lot about her childhood. It was the happy, fun things she talked about.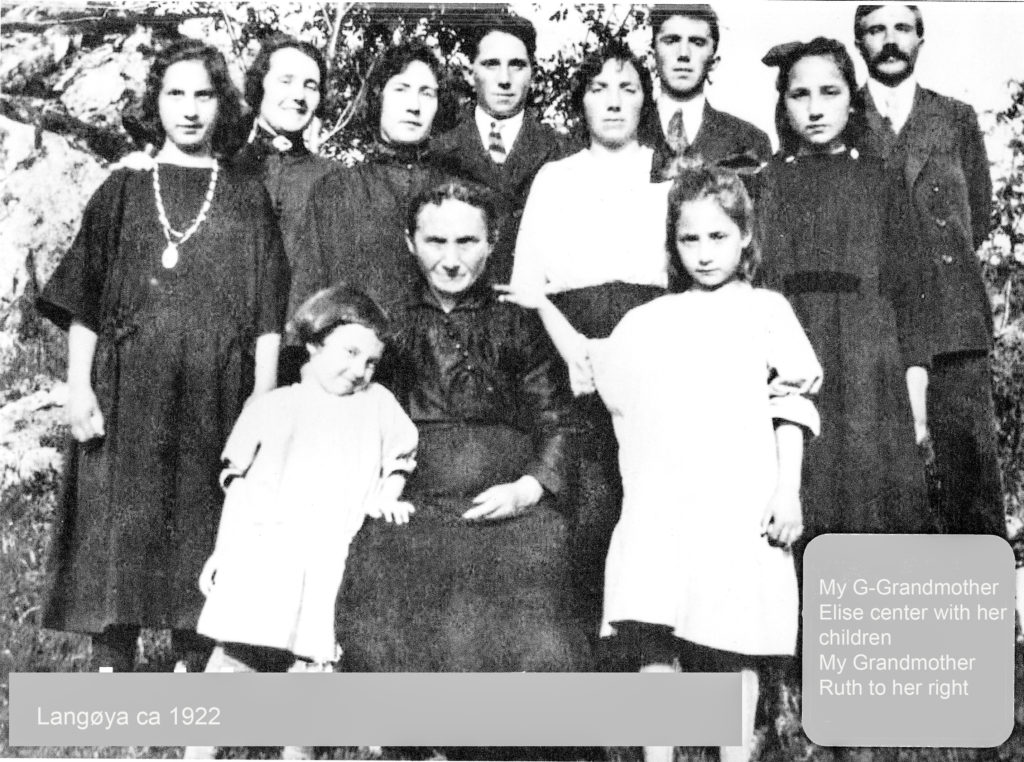 When she got old enough to go to school she had to go in to the island Hitra. She lived with the family of her oldest brother Johannes during the week.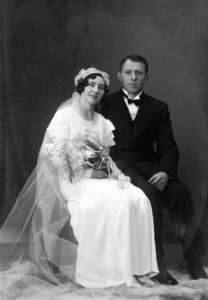 My grandmother's older sister Agnes went to the town Molde in Møre og Romsdal county and worked as a servant. This was in the early 1920's.  While there she met a man named Sigfred (Siggen) Nilsen.  They got married in 1928.
Sigfred's brother Nils did not attend the wedding as he was in Canada at that time. My grandmother may have attended the wedding. At some time in this period my grandmother moved to Molde and she met Nils Nilsen (Sigfred's brother) when he got home from Canada in 1931.
I don't know much about their courting, but I know that my Grandfather Nils sailed in his small racing sailboat from Molde to Langøya to surprise my Grandmother. I always thought this to be quite a feat as he had to cross one of the most hazardous parts of the Norwegian coast (Hustadvika).
My Grandmother must have been impressed as they got married Desember 31. 1933 in Molde church.
They moved in on the top floor in my Grandfather's home. In the same house lived his parents Nicolay and Ingeborg Marie. The third apartment was occupied by Sigfred and Agnes. Nils and Ruth lived here until they built their own home in 1953.
I kick myself for not having taken more notice of stories about their lives. It seems to confirm the experience that so many of us starts with genealogy when our richest sources are gone.
Nils and Ruth had two children; Randi, my mother, born 1935 and Trygve born 1941.
My Grandfather worked as a truck driver. During the invasion of Norway, Molde was bombed and burnt by the Germans. The entire city center was in ruins. After the war everyone were rebuilding and there must have been a lot of work for a truck driver.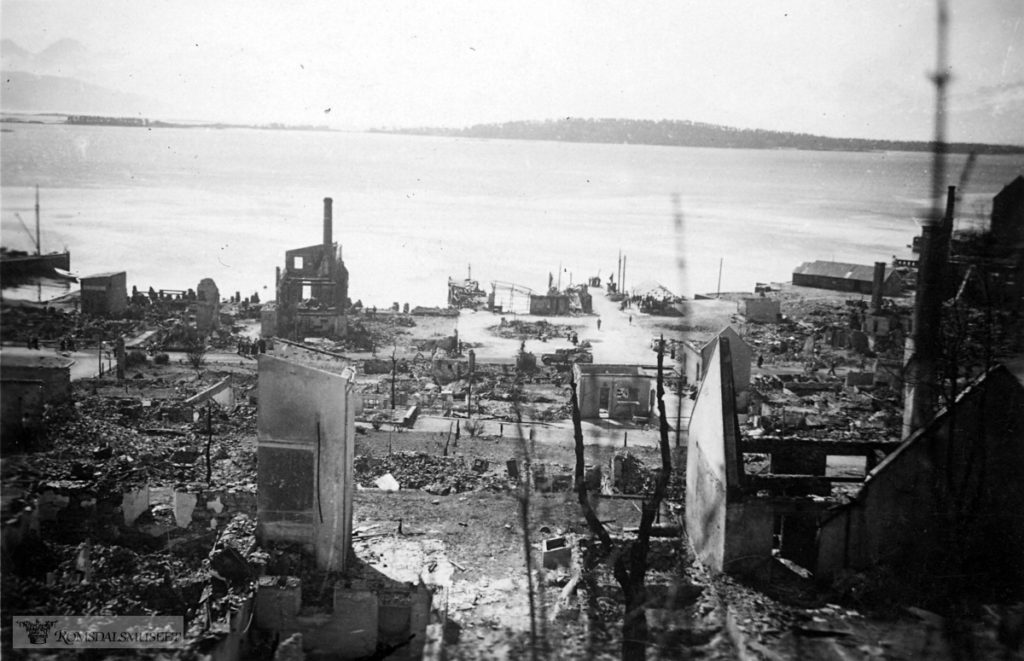 My Grandmother took occasional cleaning jobs as the many new houses were finished. For a while she ran a small grocery store in the house next to their home.
Having grown up on the coast, my Grandmother was a master with fish. She was fortunate to have married a man who also liked fishmeals. In Molde there were several fishmongers that supplied top quality raw materials. Fish was frequently served in their home. It made me into something very rare; I child that liked fish! I don't eat Lutefisk though. I can never remember it being served by my Grandmother. Preparing Lutefisk is a long and tedious process. Maybe they dropped this dish due to the easy access to fresh fish.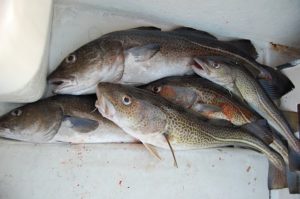 There are many dishes I could choose from if I were to serve my Grandparents a fish meal.
Pollock, Cod, Halibut and Wolffish are fish easily caught on the Norwegian coast. It is also easily prepared.
Boiled: Water enough to cover the fish is brought to boiling  The body of the fish is cut in pieces about 2 centimeters wide and added in the water. Let this simmer until the bones let go of the meat. It is important that the water does not boil, or you may be serving fish soup instead. The fish is served with potatoes, carrots and melted butter.

These fishes when boiled could also be served with simple white sauce made with butter, flour and milk.

Fried: The fish is filleted and cut to suitable pieces and fried on the pan with lots of melted butter and cut onions. Served with potatoes, carrots and melted butter.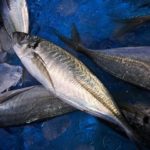 Mackerel is boiled in the same way as above, Sometimes 5-6 whole peppercorns and 5-6 laurel leaves are added in the water for taste.  For frying we choose fish that fits in the frying pan. The fish is of course cleaned and the intestines removed. We cut the head and tail off and fry the entire fish on the pan. If you have the patience you can of course fillet the fish.  No onions is fried with the Mackerel. Smoked Mackerel is also yummy.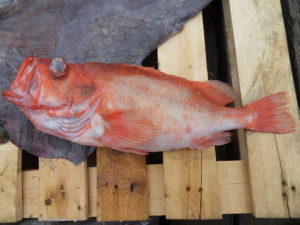 My grandparents often served lighly presalted salted Uer – Rosy fish, a really good fish to eat. It is boiled.
Halibut and Salmon are prepared in the same way. Sometimes 5-6 whole peppercorns and 5-6 laurel leaves are added in the water for taste.  In the time before fish farming, Salmon was pretty expensive so it was used on special occasions. Smoked Salmon with scrabled eggs on a sandwich is delicious.
I have not mentioned Herring. It was an important part of the food on the coast. My grandmother did not serve it often. It is probably because the family on Langøya fished and there were so many other species readily available.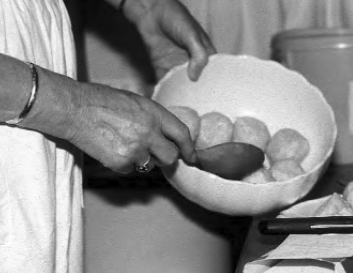 The different species could also be gound into forcemeat and be used for different dishes. One of the more "excotic" are Dumplings. Dumplings made from potatoes have been used in parts of Norway. The dumplings with fish are, naturally, a coastal phenomenon.
Fish dumplings – Fiskeball can be made from both fresh and salted fish. I must admit that I like the dumplings made from fresh fish the best.  In the basic recipe the cleaned fish fillets are ground to a rough forcemeat together with potato starch, onions, milk salt and pepper and various spices.  The forcemeat is formed to about tennis sized balls and boiled in a prepared brine. For this brine you boil pieces of lamb to add taste.
Sometimes my Grandmother made "Mixed dumplings" – Blandaball. In these she used equal amount of fish and potato. In both cases the balls were served with fried bacon, melted butter, carrots and rutabaga.
Fishcakes (Fiskekaker) and Fishballs (Fiskeboller) are made from a somewhat similar forcemeat, fine gronded this time.
Fishcakes are fried on the frying pan in a "hamburger shape". Served with vegetables. Either with melted butter or a brown souce.
The fishballs are made into ping-pong ball sizes and simmered in lighly salted water. They are served with vegetables in a white souce.
Fiskegrateng  – Fish gratinè  The fish with a white souce is usually prepared in a shallow dish of some kind. topped with a browned crust, often using breadcrumbs, and/or butter. Is baked under an overhead grill or broiler to form a golden crust on top and is traditionally served in its baking dish with potato and carrots.
If I were to choose from these dishes to serve my Grandmother I would choose the boiled cod. As we are in season for cod roe I would serve this and the liver boiled with. This is really good eating.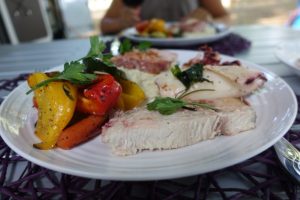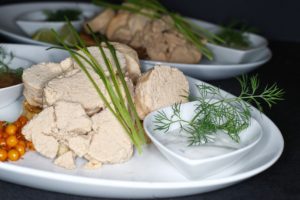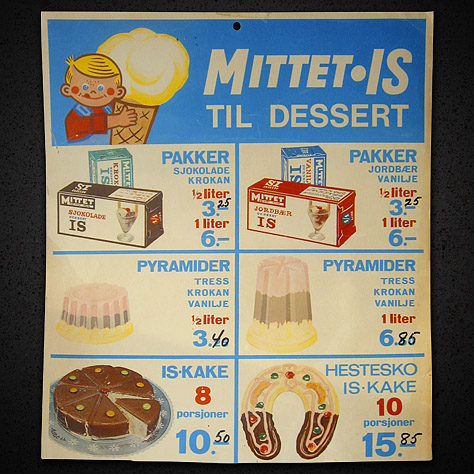 So what would we have for dessert? When I grew up in the 1960's, my Grandmother worked at an ice cream factory – Mittet-is. When we took the ferry from Vestnes on the south side of the Romsdalsfjord to Molde we used to time it so that we could drop by the factory and walk with her home or ride with my Grandfather as he worked at the trucking coordination office right next door. My Grandmother always had ice-cream in the freezer as they could buy "out of shape" items cheap. The shape didn't matter to me!
My Grandfather Nils passed away March 3. 1980.
I got a few more years with my Grandmother Ruth. I "rented" a room with my Grandmother when I went to school in Molde. She would never let me pay anything for the room or for the food she served me.
One of my greatest memories growing up was when my Grandmother took the whole family back to Hitra and Langøya to show us where she grew up.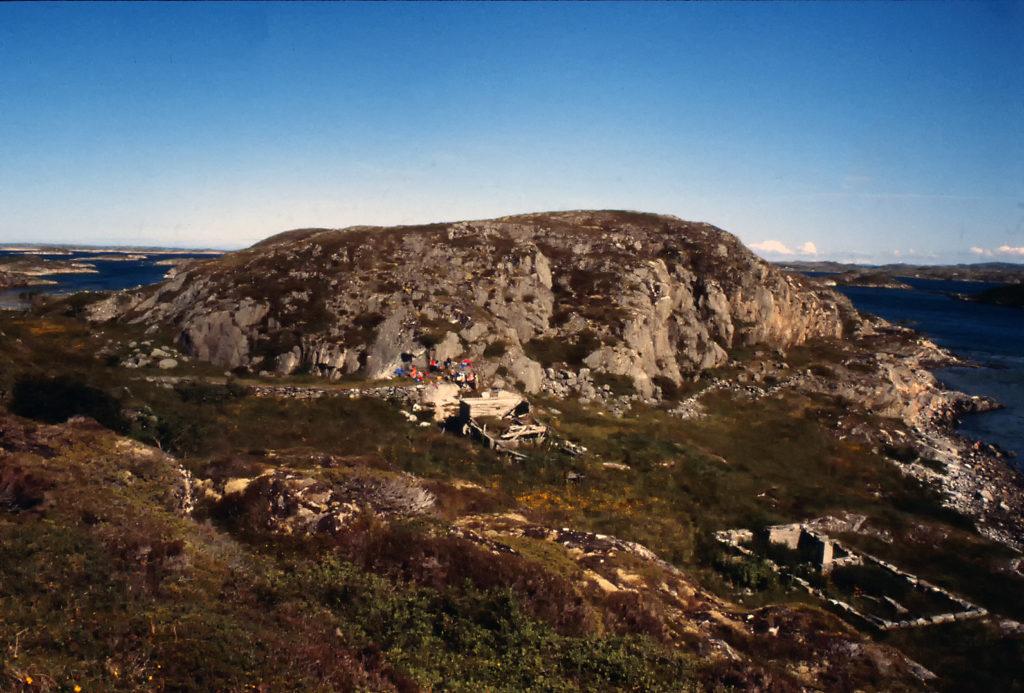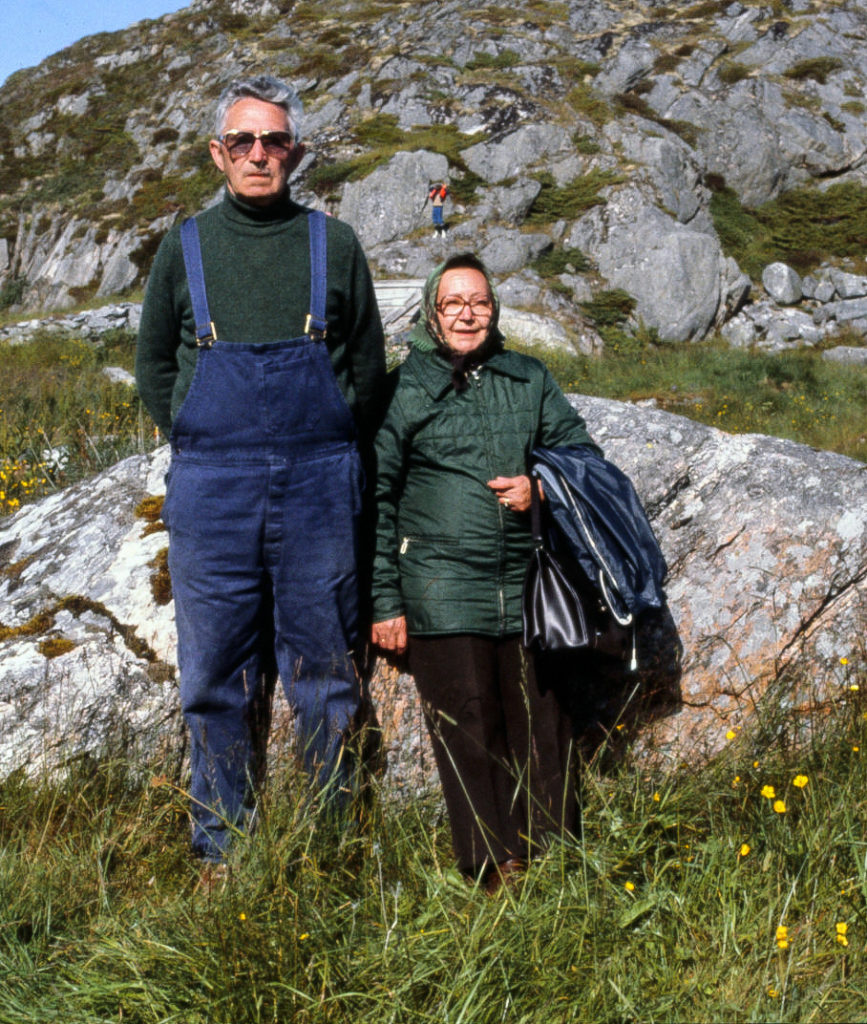 My Grandmother passed away December 26. 1983.