#52ancestors : My favourite picture
Here is this weeks contribution to the 52 ancestors in 52 weeks Challenge.
The theme for this week is "My favourite photo". It is hard to pick one particular favourite. I ended up sharing this one of Tresfjord, in Møre og Romsdal county, Norway. This is where quite a lot of my ancestors lived and so much of my family history took place.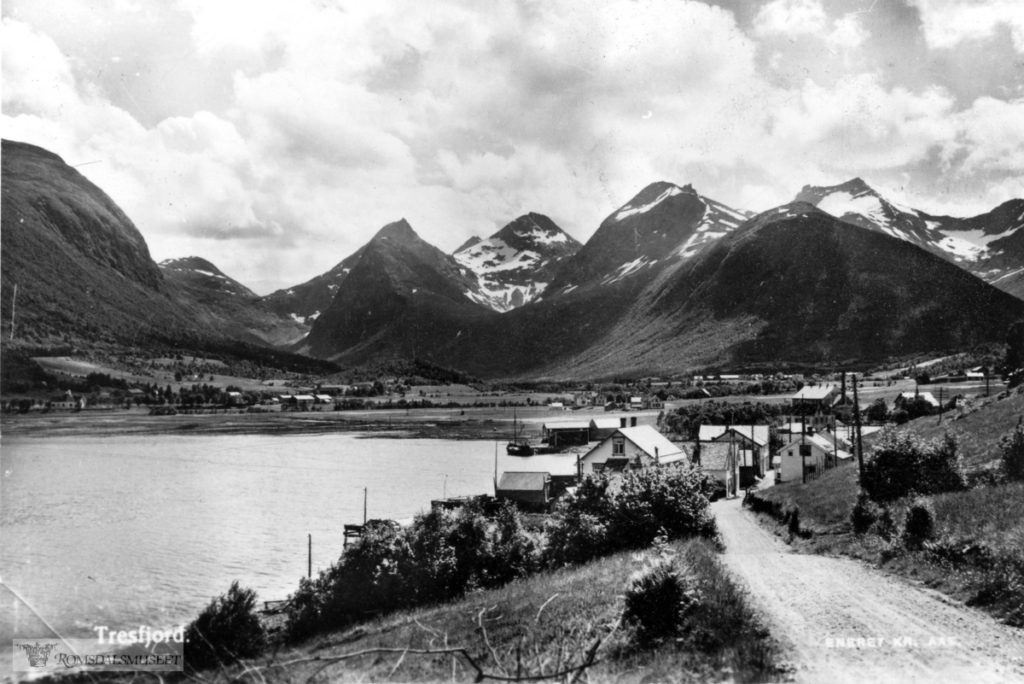 Going back through the generations, I have ancestors on most of the farms in Tresfjord.
The road leading down to the houses is called "Syltebakken" → Sylte hill. Sylte is a name found many places in Norway as it refers to an estuary – often a low wetland. The river Tressa empties into the Tresfjorden here. The river divides Sylte into two parts. The part where the photographer stood is called Sør-Sylte → South Sylte. The part on the other side of the river is Kyrkje-Sylte → Church Sylte. We can see the Church in the distance to the left in the picture. I have often wondered about the name Sør-Sylte. In this picture we look fairly due south, so a more natural name of this part should have been Vest-Sylte → West- Sylte. Anyway, we'll stick with Sør-Sylte as they have done for hundreds of years. 
Somewhere in Syltebakken, the area closest to us, my 3G-Grandfather Hans Larsson Sør-Sylte lived. He was born in 1742 in Nordsinni in the municipality of Land, Oppland county, in the Valdres area. He was born at the farm Skiaker, where his parents were cotters. They were Lars Jonson and Anne Mikkelsdotter. I don't know much about Lars and Anne. They had two other children, Ingeborg b. 1736 and Mikkel b. 1746. Lars and Anne were living at different places at each of their children's birth. In 1751 Lars and Anne moved to the farm Steinsrud søndre as cotters. 
I don't know anything about Hans' life in Valdres, but me must have been a tailor apprentice because when he arrives in Romsdal he is a trained tailor. What made Hans leave Valdres and travel north to Romsdal is not known. At the town Åndalsnes, Romsdal there were a big annual market. People came from afar to trade. This might have been one of the things that drew people from the Grubrandsdal and Valdres area. We will never know, but let us say that Guro Olsdatter followed her family to the market and met Hans who was there to sell clothes he had made. They fell in love and instead of going back home Hans decided to go with her to the Bergsvik farm, not far from Åndalsnes.
Click on the map markers for a brief description 
Nov 28 1776 he marries Guro Olsdatter from the farm Bergsvik, in Veøy old church, Møre og Romsdal county. Guro was born 1746 by parents Ole Olson and Anne Ellingsdotter.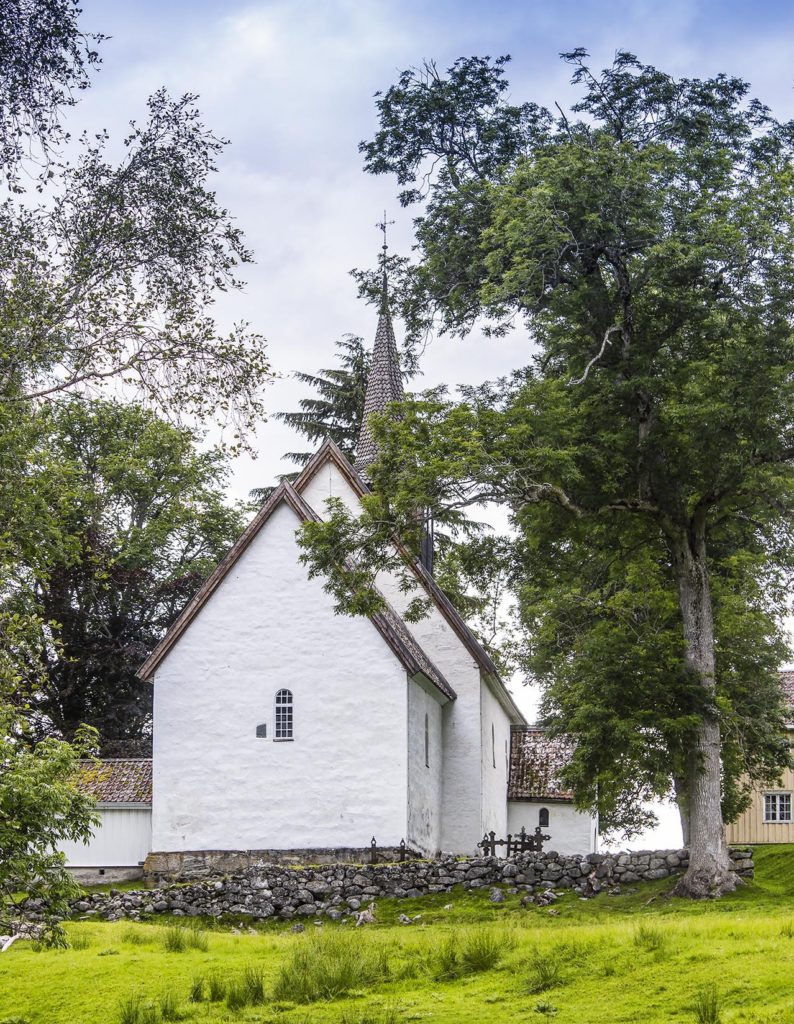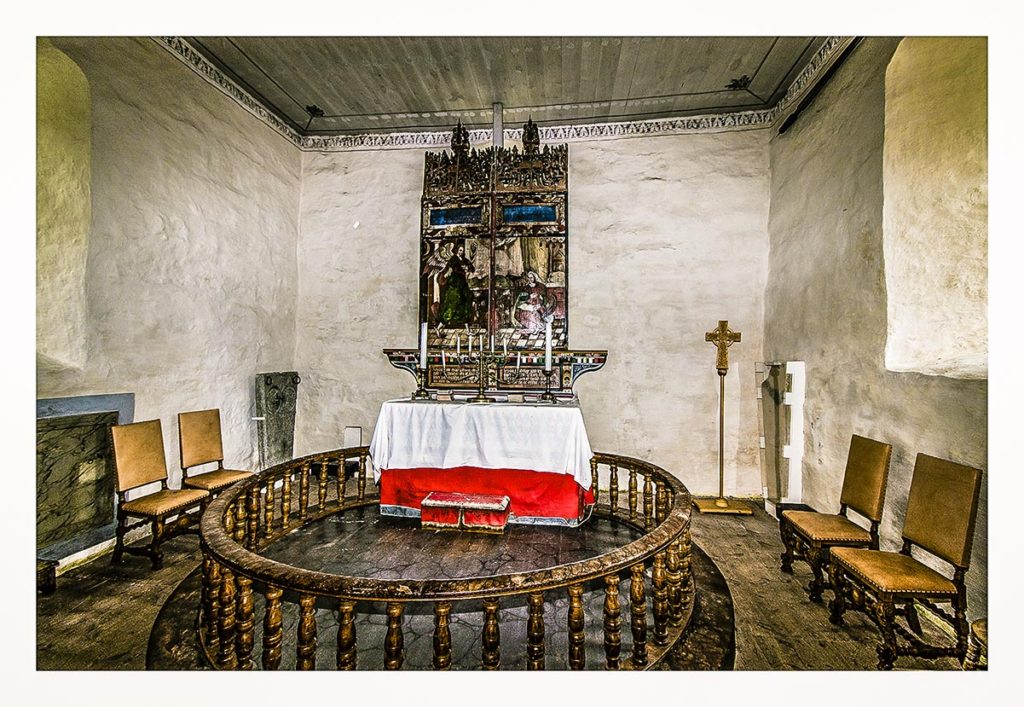 Hans Larson was first registered in Tresfjord when his son Ole is baptised in 1781.
In his book "Bygdebok for Tresfjord", Agnar Skeidsvoll tells that Hans was the first trained tailor to settle in Tresfjord and that he introduced a new style of jackets for men. The jacket was locally called "speljakke" and was styled after the old military uniforms used at the time. The jacket that Hans introduced was the inspiration for one of the national costumes from Romsdal. 
Here is a picture taken many years and kilos ago of Inger Lise and me.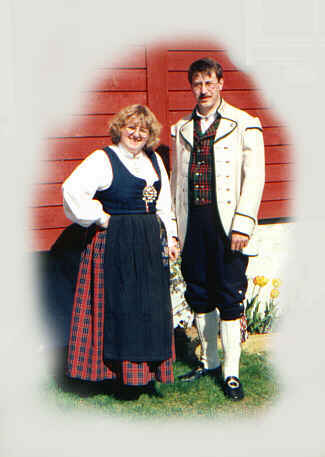 Inger Lise wears a costume from Vistdal in Romsdal. I wear the old national costume from Romsdal. We both look great squinting into the bright sun 🙂
Here are Hans and Guro's children, all born in Tresfjord
i. Ole Hanson Sør-Sylte born 1781.
ii. Marit Hansdotter Sør-Sylte born 1783.
iii. Hans Hanson Sør-Sylte born 1786 died one year old
iv. Hans Hanson Sør-Sylte born 1788 and died den 05 Nov 1851 in Tresfjord
v. Lars Hanson Sør-Sylte born 1790
Hans Hanson born 1788 is my 2G-Grandfather. He was trained as a tailor by his father. One story retold in the book by Agnar Skeidsvoll gives the impression that Hans Larson had a bit of a temper. One time when he and his son visited the farm Sætre in Tresfjord to make clothes for the entire household, Hans jr. made a costly mistake and his father got mad and wacked him so hard that he fell down from the table where they sat tailoring.
We must assume that Hans and Guro  lived in very modest accommodation in Tresfjord. Here is an example of a cotter's cabin from a different part of Tresfjord/Vestnes.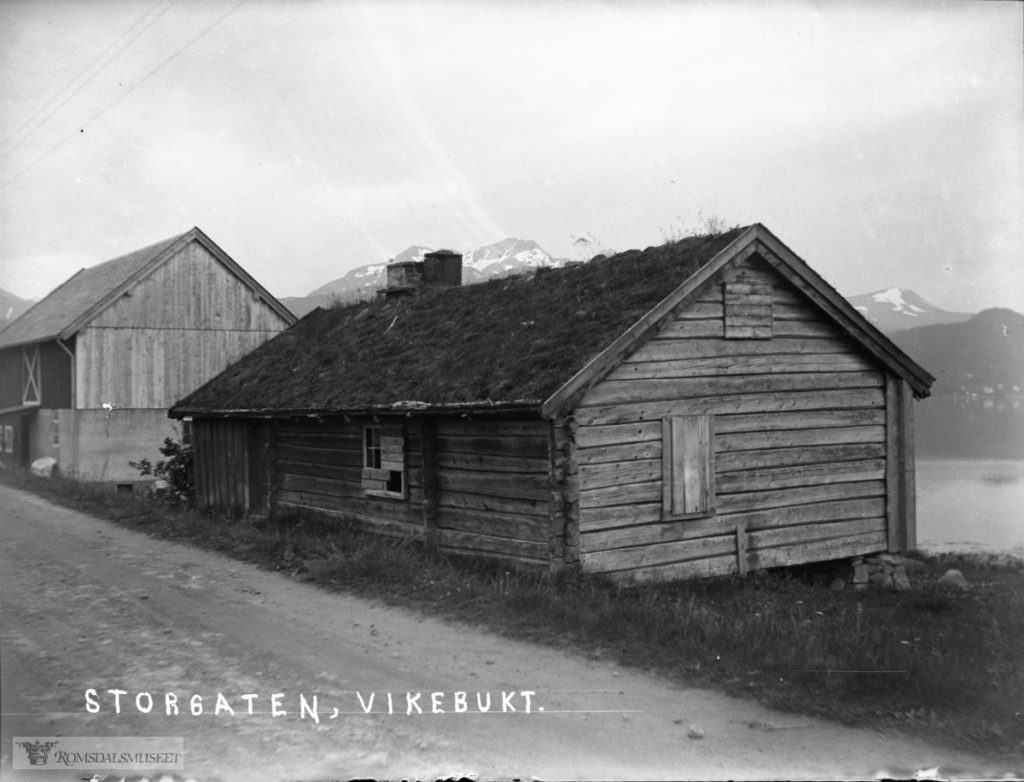 Hans' wife Guro died 17 Nov 1798 And was laid to rest in the cemetery by Tresfjord Church December 2. the same year.
In the 1801 census Hans Larson is listed as a widower, cotter without land and tailor. His son Hans jr is the only child living at home. His younger brother Lars is not there. He may have died or he was fostered by another family due to his young age when his mother died.
March 17th 1801 Hans Larsson died in Tresfjord "of old age(!) 59 years old"