Family from Børsa, Sør Trøndelag
Here is a little history about a family with roots in Børsa, Sør Trøndelag.
By Carolyn A. Johnson
Featured photo show Skaun Church, buildt 1183 photo by: Erlend Estenstad (nn:Brukar:Erlend) (Own work) [GFDL or CC-BY-SA-3.0], via Wikimedia Commons
Many years ago, in fourth grade, we studied Wisconsin history and we were required to do our family tree. This led to many, many, years of research and my homework will never be totally complete as there are always little bits and pieces one finds in unexpected places!
My Great Aunt, Christina Petra Paulson 1883-1880 and her sister, my Grandmother Laura Bertine Paulson Johnson 1885-1965, were the source of information that included photographs, birth names that included the farm names and locations. Another treasure was the prayer book (I think in Swedish) and inside the cover a prayer written, in Norwegian by Great Grandfather Even Paulson from the Lefstad farm near Børsa, Skaun kommune, Sør-Trøndelag fylke, Kingdom of Norway. We used it at the memorial services for Great-Aunt Christina, Grandmother Laura and my father Jørgen Ray Johnson.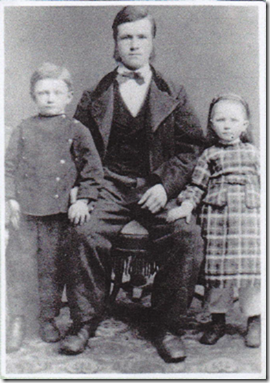 Prays without ceasing:
Prayer is the spirit of the inner man,
it breathes the air, which blows constantly
to it from the home of the spirit.
But as a means for laying up, as
revival and refreshment, by which the spirit
is voiced in prayer, and as a help for
prayer in those hours, when one can not
pray, prayer books are useful, and in most
cases they are necessary for family devotions.
Therefore, Luther says:
"One must adhere to the Word, and rise up
until the wings grow and one can fly without
the Word. Because I do not reject the Words,
no more shall any reject, but with great
thanks accept as special large gifts from
the Spirit.

Even Lefstad
Even was the son of Pål Jonsson Lefstad and Kirsten Jonsdatter Skjelum. He got his papers, "attest", from the minister in Børsa April 29 1880 and came to America the same year on the Ship City of Paris. Port of departure was Liverpool, England and Queenstown, Ireland. He landed in New York 1st June, 1880.
He went to Menomonie, Wisconsin and worked in a lumber mill. The lumber industry had brought Menomonie permanent settlement and economic prosperity in the 1800s. Menomonie was incorporated as a city in 1882.
Johanna also came from Børsa in Sør Trøndelag. She was born December 17. 1849. Her parents were Ole Sivertsen and Beret Larsdatter Melby. When she got her papers, "attest", from the minister in Børsa Jun. 1 1882, her name was written Johanna Olsdatter Nordland. In 1882 Johanna came to America, and on 28th September, 1882, they married in Menomonie, WI.

Even had taken papers to become a U.S.citizen. On the 3rd July,1889, he was working in the sawmill and he was hit in the chest with a log. He died the next day and he was buried the 5th July, 1889. It is not known where he is buried. As a young widow with small children, Johanna managed to keep the farm and raise her family. She later became the grandmother of four.
Johanna died Dec. 11, 1916 in  Menomonie, Dunn County, Wisconsin.  She rests at Highland Cemetery close to her three children.
Even and Johanna's children were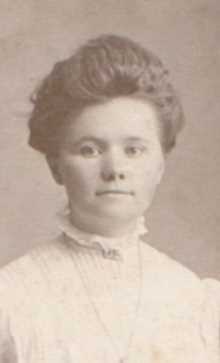 1. Christina Petra Paulson 
Birth: June 8 1883 Cedar falls, Dunn county, Wisconsin,
Death: Jan 24 1980 Minneapolis, Hennepin county, Minnesota and was interred at Highland cemetery, Menomonie, Wisconsin.
She was a gifted seamstress and homemaker. She worked in St.Paul and Minneapolis and went to night school to earn her high school education. She was a gift to the family!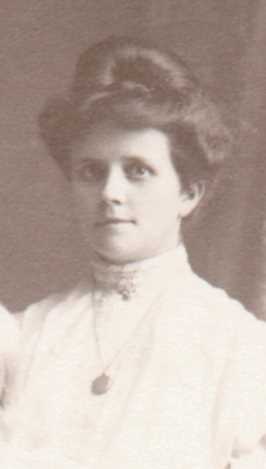 2. Laura Bertine Paulson Johnson
Birth: Mar 23. 1885 Cedar falls, Dunn county, Wisconsin
Death Jan 3. 1965 in Watertown, Jefferson county, Wisconsin
She was married to George Ernest Johnson. They had four children.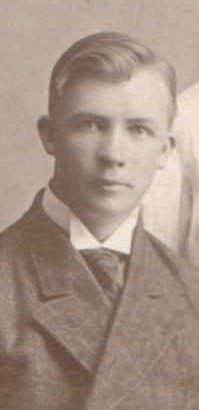 3. Odin Paulson
Birth: Oct. 12, 1886 Cedar Falls, Dunn County, Wisconsin, USA
Death: Mar. 13, 1922, Tucson,  Pima County, Arizona
He served in the WWI and was sent to AZ to recover from the gas that was used during the war. He then got the flu and died. His body was returned to Menomonie,WI