Here is a little article about sources where the patronyms have been left out and the consequences this has for searching the Digital Archives.
I was looking for one of my foremothers In Åsane localparish in Hordaland county. Thanks to the outstanding "bygdebok" published for the area, I knew her name was Brite Monsdatter. She was born 1630 and died in 1688. As always I wanted to try to find the primary sources for the information. At this time
Åsane localparish belonged to Hammer (Hammers) parish.
I went to the "Find source" feature on the Digital archives, searched for Hamre and got this result: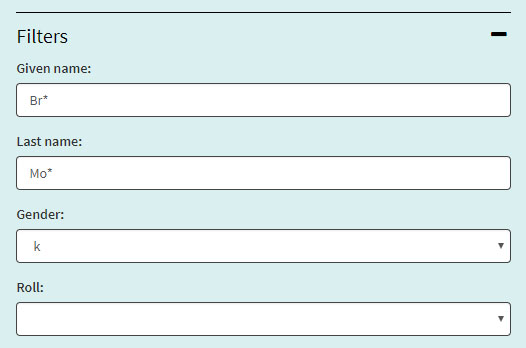 I went on to search for Brite among the deceased and buried by printing Br* in the "Given name" field and Mo* in the "Last name" field.
I always use just a few letters and the asterisk to cover different name variations.
In gender I chose "k" = kvinne → woman.
In the "Roll" field I put nothing as I was searching one defined section.
Shouldn't this field name actually be "Role"?
Anyway, my search turned up nothing. I then browsed the chronological list and Maundy Thursday (Skiertorsdag/Skjærtorsdag) 1688 I found "Clemet Houkaas quinde Brite 58 aar".
These records are very poorly kept and hard to read so if I didn't know where and what to look for, I might have missed this one. (Hover mouse over picture to enlarge)

So, Brite was there, but why didn't she show up on a search? The answer is simple: As she was not listed with patronym in the original source, my use of patronym blocked the results.
Here is how she appear in the result page in Digitalarkivet. Her husband Clemet is listed as "pårørande" = next of kin. We see that Brite's funeral was held Skiertorsdag. In 1688 this was April 12th: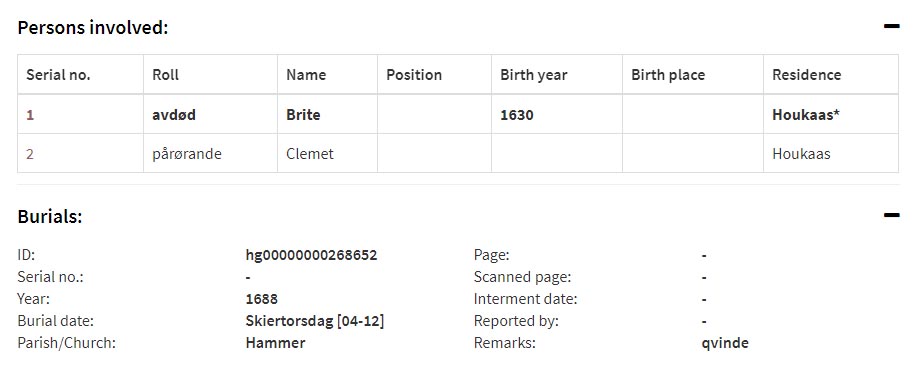 As I use the scanned church records a lot, I often come across church records where the patronym is left out. So this phenomenon may occur several places. My lesson learned is that if a search turns up nothing, I will try one without the patronym.
This may return an overwhelmingly amount of results so it becomes important to focus the search by applying the "Period" and "Geography" filters. If you know the farmname you might try adding that. It can be difficult though, as the farmnames usually have had different spelling throughout the years. In this case Houkaas is today spelled Haukås.
Also using the search feature to look for baptism records, we need to search for only the first name of the child as this is how they normally are listed in the records. In many cases it is better to search for the father's name.