It is always fun to find pictures to illustrate our family history. Not many of us find portraits of ancestors born in the 1500's though.
When helping a friend sorting out his ancestors in Trøndelag, I came across a painting found in Orkdal church, showing his ancestor Jon Jonson who served as minister in Trondheim and later in Orkdal, Sør Trøndelag county. The picture is used by permission from Orkdalsmenighetene.
The first time we hear about Jon Jonsen is when he is given the position of chaplain and overseer of the hospital in Trondheim (NRR4: 238, 304). This took place in 1607 It is believed that Jon was in his late 20's at this time. This give us 1580 as an approximate year of birth (Granquist 1982:105).
In 1612 Jon wanted to marry Kirsten Olsdatter. They thought they were second cousins and due to the close relationship he had to obtain permission from the king to get married. The application was sent to the Danish chancellor in Norway. Minister Jon was not a very good genealogist as he and Kirsten were probably not closer than 4.th cousins.
Kirsten Olsdatter had for many years been the matron (rådskone) at the hospital.
Jon and Kirsten did not get a reply to their application and in 1615 Jon had to write another letter. This time he had to ask the king for forgiveness as he had procreated "with a woman in the hospital". (NRR4: 566).  The woman must be Kirsten Olsdatter. Jon received forgiveness from the king (Granquist 1982:105).
This  must have been a very embarassing incident and might be the reason he applied for a position outside the city of Trondheim. In the first part of 1616 he became the new minister of Orkdal (Orkdalskyrkja…1993:96).
Jon married Kirsten Olsdatter circa 1615
Children from this marriage were:
i. Dorthe Jonsdatter was born circa 1615.
ii. Idde Jonsdatter Grøtte, Another name for Idde was Jødde Jonsdatter.
Jon next married Johanne Christophersdatter Påske circa 1619 in Orkdal parish, Sør Trøndelag county.
Johanne was born circa 1590 and died circa 1625 in Grøtte rectory, Orkdal parish, Sør Trøndelag county about age 35.
Children from this marriage were:
i. Jon Jonsen was born in 1620 in Grøtte rectory, Orkdal parish, Sør Trøndelag county
ii. Christopher Jonson Sundlie was born in 1622 in Grøtte rectory, Orkdal parish, Sør Trøndelag county, and died after 1702 in Sundli, Orkdal parish, Sør Trøndelag county
Jon next married Idde circa 1626. Idde was born in 1594 and died after 1634. Another name for Idde was Gjøda or Gyda.
The child from this marriage was:
i. Johanne Johnsdatter was born circa 1627 in Grøtte rectory, Orkdal parish, Sør Trøndelag county,
He served as minister in Orkdal to about 1644. He owned the farm Sundli where he moved after his retirement. He also owned the farm Geitbuan and had saw-mills both in the rivers Vorma and Kvamsbekken (Orkdalskyrkja…1993:96). As we can see he was not only a minister, but also a businessman. He pretty much exhausted the timber resources at the Sundli farm.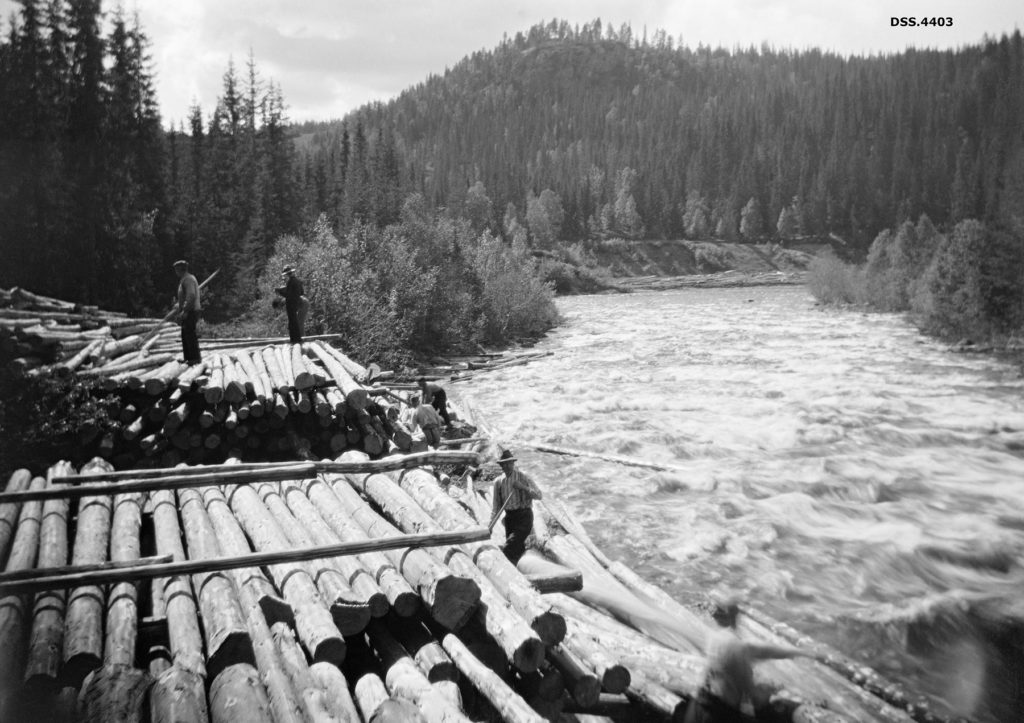 Jon's daughter Dorthe married Steen Hansen who took over the Orkdal ministery when Jon retired. Steen and his father in law got into a disagreement about real estate supposedly belonging to the Orkdal rectory.  Jon's daughter Idde married the magistrate of Orkdal Morten Knudsen (Skrondal 1966:108).
Jon Jonson's year of death is probably sometime in the early 1660's, as his son Christopher is listed as owner of the farm Sundli in the census (manntal) 1664.
The painting is dated 1634. The woman in the picture must be Jon's third wife Idde. From this painting we see that Jon had many children. I have only been able to confirm and name the ones that are listed above.
It is likely that the two girls front right are Dorthe (b. ca 1615) and Idde (b. ca 1617). To the left, the two boys that seems to be oldest must be Christoper (b. 1622) and the oldest son Jon (b. 1620). Jon (jr) is likely to have died before reaching adulthood as it is Christopher who inherits his father's estate. The little girl in front of her mother must be Johanne (b. 1627).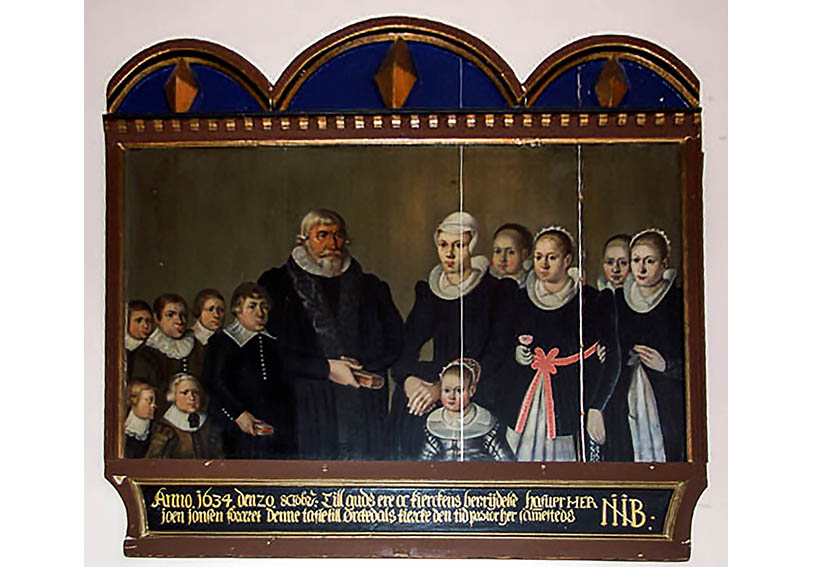 Working with this old sources, it is easy to make mistakes. If you have corrections or additional information about this family, don't hesitate to comment or send me an email.
Sources
Grankvist, Rolf: "Nidaros kirkes spital 700 år : Trondhjems hospital 1277-1977″ [Trondheim] : Brun, 1982
Norske Rigs-Registranter Fjerde Bind  (NNR4) (Digitalarkivet)
"Orkdalskyrkja på Grøtte i 900 år" [Orkdal] : Menighetsrådet, 1993
Skrondal, Anders: "Orkdalsboka. 3 1 : Gardssoga" [Orkanger]: 1966