Merry Christmas from Norway!
Here is a little Christmas greeting from the attic in Skjevika, Norway
Some of you have commented that I haven't been publishing much lately. Being the month of December and everybody getting ready for Christmas I figured you have less time to spend on genealogy.
I hope you don't completely forget about genealogy though. As Christmas is the time of the year when family gets together, it is the perfect opportunity to stear the conversation towards family relations.  You might want to have a look at my friend Judy's article Talking about interviews. I got into genealogy after both my grandparents and my parents had passed. Many of the things I have stuggled to put together, I know they could have told me.
Lately I have been looking into some old pictures belonging to the family. Many of them I have no clue as to who they show or where they were taken. Please, also use the opportunity to talk about pictures!
We have had a lot of rain. Today we got some snow so it is starting to look a little like Christmas outside. In our house, my wife Inger Lise is the decorator and also the head chef. She started the preparation of the "pinnekjøtt" (lamb ribs) we will have for Christmas dinner today.
My grandfather's old America trunk is dressed up for Christmas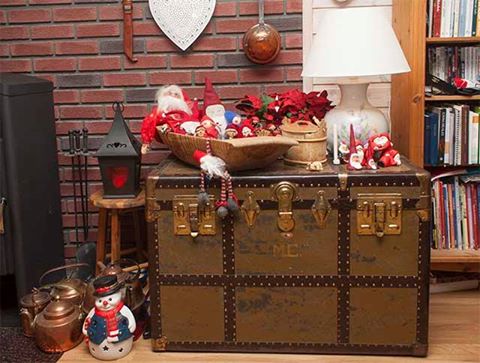 The picture on top is the view from our home in Skjevika east of Molde, Norway
When time and inspiration hopefully returns in the new year I will try to get back to more blogging.
I better get started on my "Honey do" list my wife has prepared for me, so I close by wishing you all a
Merry Christmas and a Happy New Year!