Find old Norwegian photos on the web
Here are a some websites where you can find old photos from Norway
Digitalt museum is a Norwegian gateway to 184 collections with nearly 1.2 million pictures. You will find all sorts of motifs; portraits, architecture and landscape. It has a comprehensive "help section" English Language can be chosen for the Interface.
Another website with photos on different topics. This Collection resides within the "Digitalarkivets" website. It has no English interface. Some of the photos are free to use under the Creative Commons CC BY-SA license. Other are "Falt i det fri" → "in the public domain" which means that there is no restrictions on the use.
This is a Collection of 36.000 Pictures from the two Agder counties. The Interface is in Norwegian. The pictures I have looked at were all copyrighted. They are in low resolution and watermarked so direct download is not very interesting. You can however order  prints by hitting "Bestilling av bilder ".
Here are some true gems. There are no known restrictions on publication.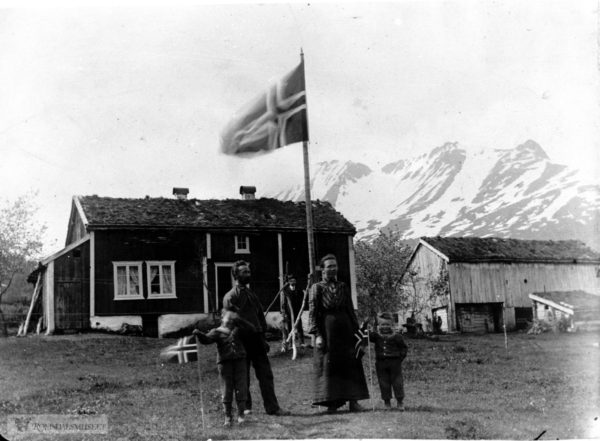 This is a large photo collection administered by the University in Bergen. The interface is in Norwegian. All the photos are copyrighted. Permission for use can be obtained through the website.
Find photos through Facebook
I suggest you make a search on Facebook as there is a large number of Norwegian groups sharing old photos. Search for "Gamle bilder fra [the place you are looking for]" This way you have the opportunity to ask the group members if they know of your ancestors and if there are any photos of them or the place where they lived. Also a lot of Norwegian local historical societies and museums are present on Facebook. I found a photo of my G-Grandparents this way.
Be sure to check the copyrights to the photos you download. For private use it probably doesn't matter that much, but if you plan to publish the pictures in any way, there may be restrictions to their use. Contact the copyright owner. Remember that you are always responsible for the use. When I have asked for permission to use pictures in a non-profit manner like this blog, there has never been  any problems.
This list is by no means complete. I will try to look for more sources for pictures. If you know of any website with old Norwegian photos I am happy to include it in this list.