Norway: Three dates of death
When we look at death records in Norway, we may encounter three different dates. This may be a little confusing.
(Illustration: Erik Werenskiold "Peasant funeral"  [Public domain], via Wikimedia Commons)
The first date is called Dødsdag/Døds datum. This is the date when the person passed away. In the older church books the actual death date may not be recorded.
Begravelsesdag indicates the day the person is interred. According to royal decree from Nov. 7. 1682, the funeral had to take place within 8 days after the passing. During winter the burial sometimes took place several months after the passing. This could happend in remote areas and areas with heavily frozen ground (Bratrein 1988:38). In localparishes distant from the rectory, the burial often took place without a minister present (Teigen 2013). The ceremony was held by the sexton or another local lay person, who read from the bible, and lead the prayer and singing.
Jordfestelse/Jordpåkasting is the final committals performed by the grave. This ritual had to be performed by a ordained minister. If the burial took place without a minister present, the minister would perform this ritual the next time he visited the local parish to hold a service (Bratrein 1988:39).  The word "jordpåkastelse" refers to the three scoops of earth that is placed on the coffin when reciting the "Earth to earth…." text.  We can see the churchrecord below, where the minister on New Year's day has performed committals for 5 persons who passed away during the month of December. (Records from before 1812)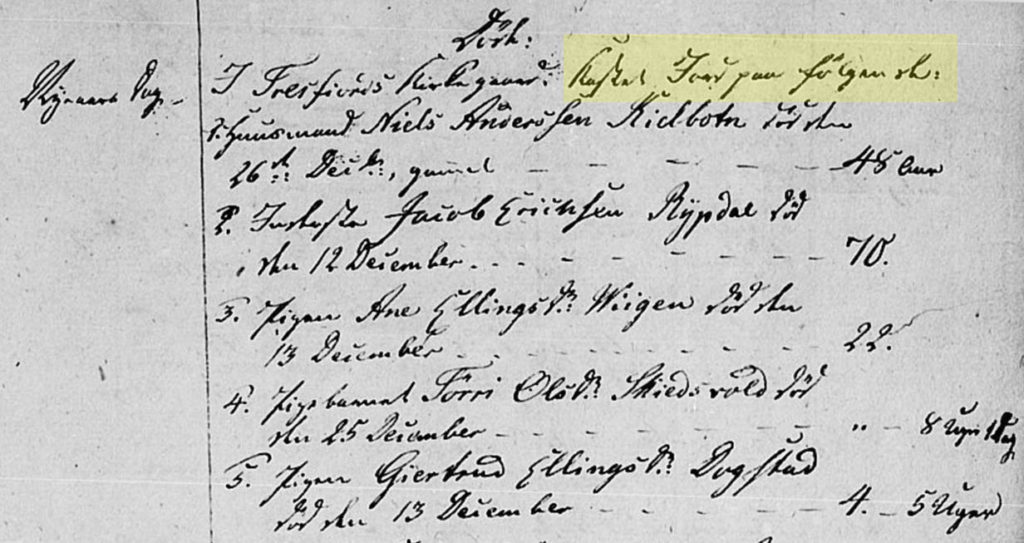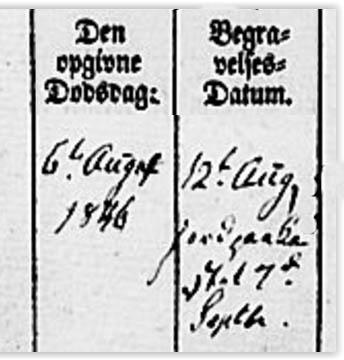 In the picture to the right we see the the reported death date August 6th. The burial day is August 12th. Here the minister has added "jordpaakast" September 17th. (1812 church book revision)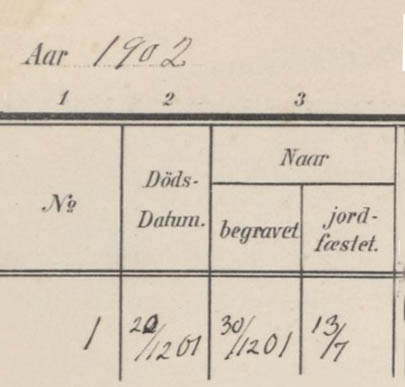 In this picture we see a record from 1902 where date of death (Dødsdatum), burial (Begravet) and final committals (jordfæstet) has got separate columns.
I usually record the burial date, if known, in my genealogy software. If the church record show the date of the final committals, and the burial date is missing I record the date of the committals in the "burial date field".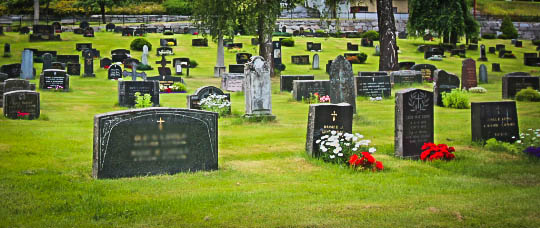 Sources:
Forordning om Begravelser Nov 7. 1682
Håvard Dahl Bratrein, "Den kristne begravelse" in Ottar "-døden skal du lide"  1 (1988)
Arild Teigen: Efter døden en sømmelig begravelse Fron Historielag 2013