How I record Norwegian locations
Here is an article about how I record locations in my genealogy software. Also a little bit about dates.
Before you start to read you might want to look at my article How I record person names. Note "the three R's of recording"
You might also find some useful information in the article Norwegian farm structure. Also the article Find norwegian place names is relevant for this topic.
As I did in my article about recording names, I want to start by underlining that this is not how you should or must record locations, this is how I do it.
It is important to distinguish between Anne Olsdatter Berg born 1859 in Dal parish from Anne Olsdatter Berg born 1859 in Vik parish
The purpose of recording locations is, of course, to leave no doubt about where an event took place. Recording correct locations is a crucial part of the gathering of evidence for our genealogy. We know that many firstname-patronym combinations were very common. There are also numerous examples of the same place/farm names appearing many different places in Norway.
I touched on locations in my article about names as I told you that I, in the surname field, I record the name of the farm where a person was born.
 Let's look at what options we have:
I sometimes see people use the name of districts such as Gudbrandsdalen, Nordfjord, Trøndelag  etc. when recording locations. I recommend against this as I think using the alternatives I have listed here are better and more precise.
Farm part (bruk)/Cotter Place(husmannsplass)/Street address
Farm (gard)
Local parish (sogn)
Parish (Prestegjeld)
Town/Village
County (amt/fylke)
Country
Farm part (bruk)/Cotter's Place(husmannsplass)/Street address
I use the name, if known, of the farm part or cotter place where the person lived. In older sources the names of the main farm and not the names of the farm parts or cotter places were recorded. We find the farm parts/cotter places named in the later cadastrals. In more modern times where births and deaths often take place in hospitals, individual adjustments are needed.
Farm (gard)
This is the name of the original undivided farm. This is normally the identification information that is used in the records. E.g. Ole Hansen living at Oppigarden (farm part) under the main farm Berg is usually recorded as Ole Hansen Berg. The farm name where the person was born, is the information I put in the surname field in my genealogy software. I also record this name as part of a location.

Local parish/Parish
Every Norwegian parish (prestegjeld) is divided into a
number of local parishes (sogn). In older church records where several localparishes were recorded in the same book, it can be a bit hard to pick out the right one. You should note that  weddings and baptisms might not necessarily take place in the local parish where the person lived. I record the local parish and parish as part of the location. When an event took place in the main local parish such as Vestnes local parish in Vestnes parish, I tend to write only "Vestnes parish". One may debate whether this is smart or "correct". Of course, if the same farmname appeare in several local parishes whitin the same parish, this would not be precise.
Town/Village
When the name of the local parish and/or parish doesn't give me any real geographical information I add the name of the village or town. E.g. "Domkirken local parish in Domkirken parish" I add e.g. Bergen (town) to clarify this.
Domkirke is the same as Cathedral i.e. the Bishop's main church. There is only one cathedral in each diocese. There are today 11 Lutheran dioceses in Norway.
County
I think that it is smart to record county. County is the same as fylke or earlier amt. I must admit that I have not always included this in locations within the county where we live. As I now often share my data with others, I realize that I need to include the county.
Country
I normally don't include country when recording locations. Except for two,  my ancestors came from Norway. You might have ancestors from many different places and there will be a need to identify the country.

I record the locations with the administrative units they were part of when the event took place. I have ancestors that were born in Veøy parish and died in Vestnes parish even though both events probably took place in the same bed.
I do however, use modern-day names for farms. This goes also for parishes and counties as this is how they are indexed in the Digital archives. It is also easier to recognize for me and my readers (Ref:3rd R)
I don't mean to be condescending, but we often see a lot of strange spellings and location names in genealogies. I recommend to spend time with geography. This will help you when searching for Norwegian ancestors. Get the location and spelling right (see Find Norwegian place names) and use the Norwegian characters (see: The lost symbols).
Dates
I guess dating format isn't that much of a problem to figure out. I am mentioning it because in Norway we write the date as "day-month-year". If you come across the dating 04.03. 1873, this is not April 3rd, it is March 4th. If you are dealing with derived Norwegian Sources this may be something to keep in mind. As I from time to time share my information with English-speaking friends/relatives I use the date format "number-letter-number"; 04 Mar 1873. I do this to be sure to avoid any confusion. No matter what format you go for, I think you should use it consistently. If you use a well-developed genealogy software, you have the option to change the date formatting.
Here is a screenshot of the formatting menu in the Legacy software. No matter what I write in the date field, the software changes the formatting to the one I have chosen here.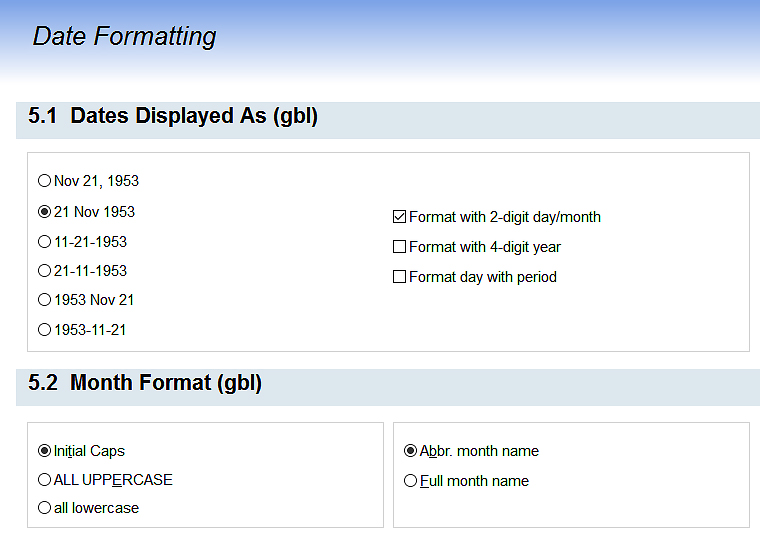 I hope you have found something of interest here. Don't hesitate to comment if you have questions about, or views on this topic. I would be really happy if you shared my articles with your fellow genealogists.