Friday finds: Sail in the wake of your ancestors
Restauration was a sloop built in 1801 in Hardanger, Norway. It was the Norwegian "Mayflower" and became a symbol of Norwegian immigration to America.
On what is considered the first organized emigration from Norway to the United States, Restauration set sail from Stavanger on July 4, 1825, with 52 people aboard, many of them Norwegian Quakers fleeing from oppression in Norway.  The group, landed in New York City on October 9, 1825 after a three-month voyage (Wikipedia).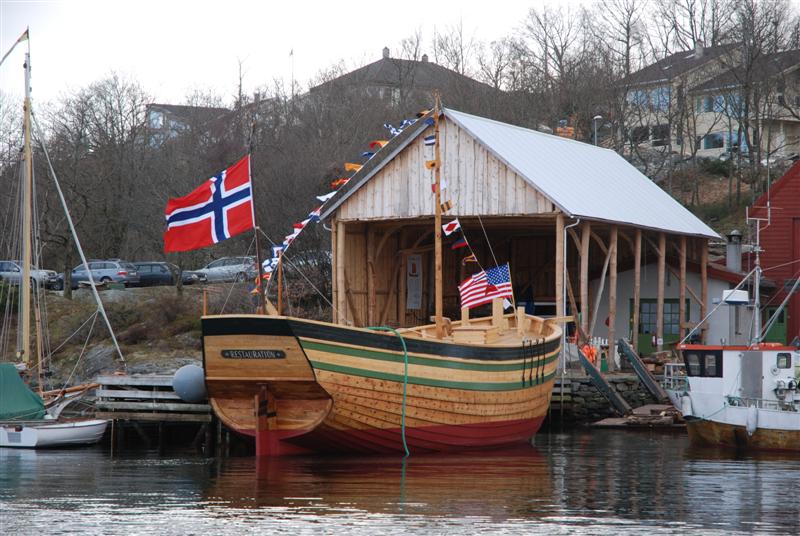 The original sloop is long gone, but an exact replica has been buildt. You can now take a trip with the sloop. Whether your ancestors were among the original sloopers or not, this is a unique opportunity to experience what the journey was like for the first emigrants from Norway.
The sloop sails from April until October. It has it's base in Judaberg in the municipality of Finnøy, Rogaland county. (This is a ca. 50 min. drive north of Stavanger).
The sailtrips normally lasts about 3 hours. Onboard the history of Restauration is presented. The meal that is served is what they call an "emigrant menu". If there is sufficient wind you can also take part in sailing the wessel.
I think this sounds very interesting and I will definitely have a go if I am  in the Stavanger area.
Check out their website: Emigrantskipet Restauration
Photos used by kind permission from Arne Nordbø
If this part of the Norwegian emigrant history sounds interesting, you might want to check out
The First Chapter of Norwegian Immigration (1821-1840) (Norwegian Emigration Literature)
by Rasmus B. Anderson (Author), Per A. Holst (Editor)
In this book Prof. Rasmus B. Anderson in 1896 presented all that was then known about the first Norwegian immigrants who settled in America's Midwest. His book is based on personal contacts and interviews with then still living pioneers, even those who sailed on the sloop Restauration in 1825 from Stavanger Norway, reaching New York on Oct. 9th after 14 weeks at sea. The book presents a well of interesting details and illuminates the first twenty years of hardships, struggles, survival and persistance which in time led to the successes and well beings of the Norwegian farmers in America's Midwest.