Tourist spot Trollstigen in Romsdal
The mountain pass Trollstigen has become a major tourist spot in Romsdal. Through eleven hairpin-turns you climb the steep mountain side to arrive at the top for a most spectacular view.
In 1533 an annual farmer's market was established at the farm Devoll in what is now the municipality of Rauma. This market drew crowds from a large area (Oterhals 1991:132). The farmers in Sunnmøre needed to cross the mountains to reach the market. To do this they travelled up Valldalen valley in Sunnmøre bringing pack horses carrying the produce they hoped to sell. To get down to Romsdal on the north side of the mountains, they had to negotiate the steep, nerve-wrecking path that clung to the mountain side. This was "Stigen" meaning "the path"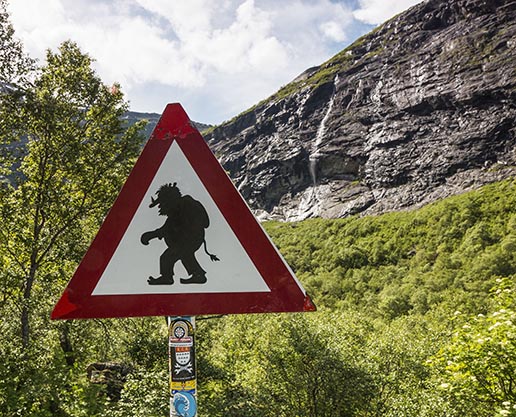 In the last part of the 1700's work were done to make the path better and more easily negotiable. Several stone bridges were built. Now the sources talks about "a road", but it was still a far cry from what we today think of as a road. As late as in the early 1900's it was still a route only suitable for riding.
Through the years the possibility of building a road for cars were discussed. After a building period of eight years, king Haakon could in 1936 open the road for traffic (Furseth 1987:69).  At this time the road was given the name we use today; Trollstigen.  Almost immediately the road became a tourist magnet. Today nearly 1 million people visit Trollstigen every year.
In 2012 a new visitor-center opened. Here is a restaurant, a souvenir shop and restrooms.
From the visitor center you can cross a small bridge and walk to two observation decks that gives you a magnificent view over the valley below and the surrounding mountains.
The road is closed in winter. It is normally opened mid May and stays open until the first snow, usually some time in November. The Trollstigen road is by some called "one of the world's most dangerous roads" This is just nonsense. The road is a walk in the park to drive with a normal car. If you drive a large RV's or pull a Caravan, you might consider alternative routes. The local busses are driven by experienced drivers that know the road like the back of their hand. Foreign busdrivers do from time to time get stuck negotiating the thight turns.
If you come by cruise ship to Åndalsnes, the nearby town, a visit to Trollstigen by bus is likely to be one of your choices for day trips.
Click on a picture and navigate the picture carusel:
Astor Furseth: Norddal i 150 år : 1837-1987 Norddal kommune, 1987
Leo Oterhals Havbårer mot bratte fjell Molde : P. R. Consult, 1991